Nacra Infusion MK11 makes a clean sweep at Australian F-18 titles-almost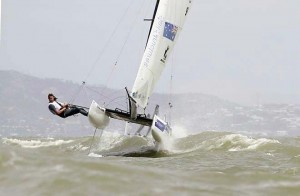 Nacra takes 10 out of the top twelve spots, finishing 2nd, 3rd, 4th, 5th, 6th, 7th, 9th, 10th, 11th and 12th overall. The series was a very windy one with large ocean swells. Only the brilliance of top local sailor Jason Waterhouse, stopped the Nacra's from a clean sweep of the regatta. Jason is Hobie 16 world champion and former youth champion and sailed a great consistent regatta.
Nacra's had the majority of the fleet and won many races in the tough conditions.
Adam Beattie on his Nacra Infusion was very unlucky not to win the regatta with a few capsizes while leading races and a breakage in one race probably costing him the title. He still showed his ability winning many races by large margins.
Local sailor Michael Guinea finished 2nd overall and was more than happy with his results. This was even a better result considering Michael was helping to run the regatta. Both Adam and Michael traveled to Europe this year to compete in the first Nacra worlds held at Texel race week in July.
The courses were long and choppy throughout the duration of the regatta, with 12 races being sailed of the 4 days. It was great to compete in the regatta itself, this achieved great exposure in local sailing reports and magazines.
With the NACRA Infusion an ISAF class it is to host its 2nd world titles in Australia in January 2013, more information will follow shortly on this.
Check out the photos of the regatta