Queensland state titles. Great event.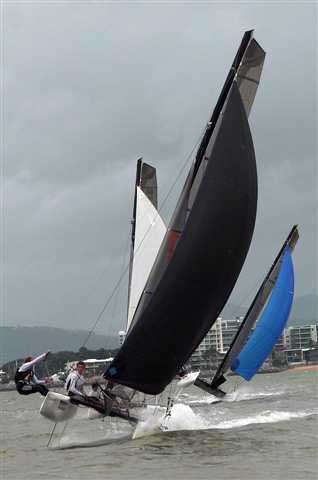 A fleet of 29 Nacra's attended the Queensland Nacra titles in Townsville-North Queensland.
Perfect weather and good breezes made for the perfect event over Easter.
A fleet of 29 Nacra's attended the regatta, with the fleet still growing in North Queensland.
Sailing was held over 3 days and 12 races were managed to be raced, with best 11 counted.
Conditions were generally 10-15knots with good waves and nearly sunny weather most of the time.
Social events were held on Friday night at Jamico Joe's which overlooks the water.
Plus a presentation on the lawn on Sunday over looking Magnetic island.
It was great to see all competitors on the 4.5 sailing 2 up with children.
Well done to Lucus for finishing 3rd, who sailed 2 up both being only 15years old.
The biggest winner of the event was Luke McMullen finally after 20 plus years managing to claim his first F-18 title.
The next event in North Queensland is on the May day long weekend at Lake Tinaroo.
Winners in the classes were.
Nacra F-18
1st – Luke McMullen
2nd – Gordon Beath
3rd – Michael Guinea
Nacra 16sq
1st – Brendan Whalley
2nd – Lloyd Bradshaw
3rd – George Camilleri
Nacra 5.8
1st – Matthew Caldwell
2nd – Brad Knoning
3rd – Chris Davey
Nacra 4.5
1st – Warren Guinea
2nd – Ross Guinea
3rd – Lucas Cale