Nacra 5.0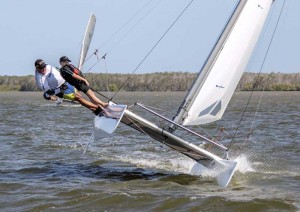 Featuring the new square top Pentax mainsail
The Nacra 5.0 combines simplicity and ease of sailing with the modern look that made Nacra famous.
The Nacra is undoubtably one of the finest production boats available in the 16ft range.
The skeg type hullshape features fine V forward sections for high pointing and true tracking whilst the rounded aft sections give the 5.0 the ability to manoeuvre for easy tacks and fast gybes.
Simplicity and value are the key components of the 5.0
Featuring Nacra's bridle foil, which allows the jib to be sheeted down lower, giving more power with less healing motion.
Kick up rudders ensure easy beaching and simple sailing.
For those who like to keep their high performance sailing simple and hassle free the 5.0 is unbeatable.
Boomless, limitless the Nacra 5.0 is the multirole catamaran capable of racing at the highest level or quietly cruising with friends on a lazy afternoon sail.
Nacra 5.0 has been called the pocket rocket.
Plus Nacra's 1 year warranty
Features
Moulded white foam sandwich hulls
Non skid decks
Grey mesh trampoline
Round cross beams
Anodised spars
Coated shrouds/rolled swage fittings
Double trapeze system
Adjustable kick up rudders
Positive ackerman steering system
Carbon reinforced rudders
Captive mast ball system
Sta-master diamond adjusters
Adjustable wing shaped spreaders
Exclusive bridle foil system
NYT racing boomless mainsail;
Racing battens
Vertical cut Dacron racing jib
Harken RCB traveller car
Barber hauler
Mast spanner system
10-1 main downhaul;
3-1 jib luff system
Optional spinnaker kit available
Details
| | |
| --- | --- |
| Length: | 5.1m |
| Width: | 2.44m |
| Weight: | 130kg |
| Sail area: | 17.85m2 |
| Trapeze: | 2 |
| Construction: | Foam sandwich |
| Designer: | Roy Seaman |